The first session of the 126th Legislature is now adjourned and as we look back at the results there are some accomplishments we can be proud of and others that leave great room for improvement. Payment of the long overdue hospital debt to the tune of almost half a billion dollars is a major step forward for our community hospitals, and our state. This long overdue debt was dragging on Maine's financial health and crippling the ability of many local hospitals to function properly. The very smart plan developed by the governor with the help of key members of his cabinet assures that we move forward in a positive way financially and releases funds for many long delayed projects as well. Thus injecting into our communities much needed construction related jobs.
On the down side it was a year marked by much impasse between the Legislative leadership and the Governor's office. A marked change from just two years ago when many important reforms in the areas of regulations, taxes, our pension system, education, health insurance and welfare were reformed and improved. Many bills found themselves in the governor's veto stack because of an unwillingness for leadership to go down and talk to the chief executive in a productive manner. The Governor took some strong positions, and while I may not agree with his style, I did support his objectives of getting Maine's financial house in order and keeping government costs in check.
When it came to this year's budget some very hard choices had to be made and I commend the members of the Appropriations Committee for their dedication. I was disappointed in the final product and could not support a budget as presented with several key points; an item that called for $40 million dollars to be funded in "savings" from the elimination of tax credits or what is being called "tax expenditures". Also a requirement for the Governor's new office of Planning and Management to identify over $30 million dollars in savings for the next two years. This added to the increase in the sales taxes of 10% and the meals and lodging tax of 14% did not offer a clear solution to Maine's financial picture. I don't have all the answers but I know it is best to be honest about the problem and not keep pushing it down the road. We finally adjourned on July 9th, but will need to come back for a special session to deal with the bond proposals.
I look forward to an enjoyable summer (or what is left of it)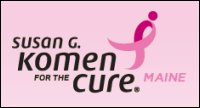 On March 9th I will participate with 7 other local community leaders in the "Dancing Like the Stars" event to benefit the Susan G Komen Maine Foundation.
The event features novices (like me!) paired with experienced dance instructors from the Back door Dance Studio in Eddington, Maine. We will perform several routines which we have been practicing for only about eight weeks. There will be a panel of three judges who will critique the routines but, the real votes come from you in the community and those who attend the event. Every dollar contributed to each team counts as a vote!! The highest fundraiser is the considered the winner of the competition (if you see me dance you will understand why I was so relieved that it wasn't just about style). You all know I am a competitor so I need your help. Please click the link on this pge which will allow you to donate on line.
This is a lot of fun and no matter who comes in first on March 9th, the key is that we are all going to win by helping Komen Maine in the fight to eradicate breast cancer. 75% of the funds go to support services here in Maine and 25% are dedicated to research work on better understanding and treating this terrible disease.
I'll do the dancing and you do the giving. THANKS
In December of an election year the incoming members begin their work of selecting leadership, choosing constitutional officers; Secretary of State, Attorney General, State Treasurer and every four years, state auditor. Maine is the only state where all constitutional officers are still selected exclusively by the Legislature. Selected Officials-selection-term 2011 (See the attached chart showing how other states choose their constitutional officers.) Due to the shift in majority control in both chambers, the Democratic nominees were selected. For Attorney General- Janet Mills was again elected, Secretary of State- Matthew Dunlap was again chosen, for state Treasurer-Neiria Douglas, the current state Auditor (who was unable to run for her current position due to term limits) and for Auditor, Pola Buckley. While we are sorry to see our current Attorney General, Secretary of State and Treasurer leaving, I beleive those incoming members will do their best to attend to the business of the state.
In leadership elections for the House Mark Eves of Berwick was chosen as Speaker, Seth Berry of Bowdoinham was tapped to be Democratic Floor Leader and Jeff McCabe of Skowhegan was the choice for Assistant Leader. Berry had the only leadership experience having served as the Assistant Leader in the 124th Legislature. On the Republican side Ken Fredette of Newport became the Republican Floor LEader and Alexander Willette of Mapleton is his Assistant Leader
In the Senate Justin Alfond was the choice for Presidentof the Senate, Seth Goodall of Bowdinham is the Democratic Floor Leader, Troy Jackson of Allagash is the Assistant Leader. The Republicans chose Mike Thibodeau of Winterport as our Floor Leader and his able Assistant Leader is Roger Katz of Augusta.
This puts in place the teams who will lead our efforts during this 126th Legislature.
The November 2012 elections saw once again a significant change for the Maine Legislature and for me personally. Voters were confronted with several major decisions; a national election for President, a United States Senate race in Maine to replace our long serving and well respected senior Senator Olympia Snowe, a citizen's ballot initiative to allow same sex marriage in Maine and in Maine's second congressional district a rematch between Congressman Mike Michaud and his former first term challenger, and now Senate President Kevin Raye. The results of this election were important on many levels and the resources that poured into Maine changed the landscape of elections all up and down the ballot, unfortunately the tenor and at times the rancor of mant of these races will change forever the manner in which Maine citizens view their elections. Almost five times the money was expended on the same sex ballot initiative in Maine than in previous contest which had set one of the highest benchmarks for referendum spending before. A very large hole was left in Maine politics by Senator Snowes decision in February of 2012 to not seek re-election. The field of candidates changed rapidly in the first few days and resulted in primaries in both the Democratic and Republican fields. this made for a frantic and at times interesting primary season, which left candidates scrambling for support and voters a bit confused. The entry of former Governor Anugus King as an independent, with perosnal resources, good name recognition and a favorable rating in the lead position and able to remain above the fray in the primary. This was not how things would remain once the general election began in earnest. Too much was at stake nationally for both parties and a brutal and tumultuous campaign ensues with large advertising buys coming form many sectors and flooding our airwaves, mailboxes and papers with conflicting and harsh ads. Additionally the focus on legislative ads saw historic spending and organization efforts by unions, environmental groups and party organizations bent on controlling the Maine Legislature. In the Bangor area alone almost half a million dollars (over $450,000 by third party groups)was spent on the this race between Republican incumbent Nivchi Farnham and challenger Geoff Gratwick. In legislative races record amounts were spent against incumbents in various area from Scarborough, to mid coast Maine, to Northern Aroostook County. This intensity had some chilling effects on the process and resulted in voter fatigue and particularly a lack of enthusiasm for many of the candidates. Winners at times were more the survivors of the process rather than those who exhibited the best resume or qualities to serve.
As the dust settled late on November 6th it became clear that several momentous things had occurred:
Maine would join, Maryland, and Washington as the first states where citizens had approved same sex marriage,
Maine would join two New England states;Vermont and Connecticut as having independent U.S. senators
Control of both chambers of the Maine Legislature would be firmly back in Democratic hands.
The final numbers were a few days in confirming but, the Senate which had seen 19 Republicans, 15 Democrats and one independent, going into the election, now saw the reverse; 19 Democrats 15 Republicans, and one independent.
The House of Representatives changed dramatically as well going into the election it was: 77 Republicans, 72 Democrats and two independents (with two vacant seats due to resignations)
After November 6th; 89 Democrats, 58 Republicans and four independents.
On the Congressional side not much changed both Rep. Chellie Pingree and rep. Mike Michaud were returned to office with comfortable margins.
To say the least it was a ground shaking change and we are yet to see how these actions will affect our representation in Washington Dc or what the effects will be at the statehouse. For the first time in over 25 years Maine will see a Republican Governor and a Democratically controlled Legislature working with each other on policy matters.
As we look back at the second year of the 125th Legislature, the fact that Mainers granted Republicans the right to lead the Legislature saw many positive contributions. Most are just going into effect in the fall of 2012 and the benefits to our citizens and communities is yet to be seen. Below are a few items in bullet point format that exhibit what I feel will be of significance.
LD 849 – Tax Relief
The bill provides that 20 percent of future surplus revenue will be used to gradually reduce the income tax rate from 7.95 percent to 4 percent. This bill is inspired both by principle and by pragmatism. Republicans believe that when the government finds it has collected more in taxes than it needs for expenditures, the taxpayers should get at least some of their extra money back. This return of taxpayer dollars to the private economy and its attendant reduction in the income tax will make Maine, which before these cuts had the ninth highest income tax rate in the country, competitive with other states and primed for economic growth.
LD 1043 – Biennial Budget- Welfare Reform measures
The 2012-2013 state budget included several reforms to Maine's welfare system designed to provide better stewardship for taxpayers' money, curb the culture of dependency that welfare programs often create, and ensure that those programs will be around for those who truly need them. These welfare reform initiatives:
1. Cap TANF (a cash benefit welfare program) benefits at 5 years, which is the federal standard, ending unlimited lifetime benefits for TANF in Maine (exceptions will be made for cases of extreme hardship, including for the elderly and the disabled);
2. End MaineCare (Medicaid), TANF, and food stamps benefits for all non-citizens;
3. Impose strict sanctions for people who violate TANF rules, including a termination of benefits for adults on the first offense and a full family sanction for the second offense; and
4. Require those convicted of drug felonies to be drug tested as a condition of receiving welfare.
LD 1 – Regulatory Fairness and Reform
LD 1 is a comprehensive overhaul of Maine's regulatory structure as it relates to business in the state. The bill was crafted by a special committee of legislators who toured the state to learn from entrepreneurs firsthand how state government can help their growth by eliminating red tape and bureaucracy. The ideas were sent to specific legislative committees of jurisdiction to be refined into this comprehensive bill.
The reform:
1. Establishes an audit program at DEP along the guidelines of less stringent federal EPA requirements;
2. Calls for state agencies to weigh both the costs and benefits of a rule under consideration;
3. Creates the Business Ombudsman Program to act as arbiter between businesses and state agencies;
4. Creates the position of Small Business Advocate within the Secretary of State's Office to help businesses navigate the state's various regulatory and licensing framework and advocate for business before regulators and legislators;
5. Requires agencies to cite information they relied upon in crafting a new regulation;
6. Eliminates any confusion in statutory language that agency rules are not enforceable in court unless they were implemented correctly pursuant to the Administrative Procedure Act;
7. Limits the Board of Environmental Protection's rulemaking authority and reduces its membership from 10 to 7; and
8. Allows legislative committees to require agencies to review rules when requested.
LD 1913 – Workers' Compensation Reform
One of the signature legislative achievements of the Second Regular Session, the reform of the workers' compensation laws will make the system easier to administer, fairer, and more efficient. The new law applies only to injuries occurring on or after January 1, 2013.
The bill has many measures that reduce costs for employers. Existing law provided for unlimited partial incapacity benefits; this bill limits them to 10 years for those with less than 18 percent impairment. The bill eliminates the requirement that employers pay benefits pending an appeal that the employer ultimately wins, and reduces the employee notice of injury filing period from 90 days to 30 days.
However, the bill also has many enhancements to worker protections. For example, it increases the maximum compensation rate from 80 percent of the state average weekly wage to 100 percent. Additionally, the Workers' Compensation Board Appellate Division will be brought back so that workers may appeal Board decisions administratively.
LD 1806 – Transparency in Government
This bill makes the following changes to the laws governing financial disclosure by Legislators and certain executive employees, in a much-needed attempt to bring transparency and accountability to Maine government:
1. Requires Legislators to disclose organizations in which immediate family members hold certain positions, and not just spouses, as previously provided by law. Those certain positions have also been expanded to include management and the definition of immediate family has been expanded to include domestic partners;
2. Requires a Legislator or executive employee who has completed service to file a statement within 45 days of the last day of service to disclose the Legislator's or employee's sources of income in the Legislator's final year of service;
3. Requires a Legislator who is an employee of another to identify the title of the position held by the Legislator;
4. Requires that, if the immediate family member of a Legislator or certain executive employees received income of $1,000 or more in compensation in a calendar year, the Legislator or executive employee must identify the source of the compensation, the type of the economic activity and the title of the position held by the immediate family member;
5. Requires Legislators and certain executive employees to identify each executive branch agency to which an associated organization has sold goods or services with a value in excess of $1,000;
6. Requires Legislators and executive employees to disclose organizations or businesses controlled by them that receive revenue of $2,000 or more but don't provide income directly to the Legislator or executive employee; and
7. Requires disclosure if the Legislator or employee holds certain positions with a political action committee or ballot question committee.
LD 1553 – Charter Schools
Prior to the 125th Legislature's passage of LD 1553 in 2011, Maine was one of only 11 states to prohibit charters schools, which are privately-operated schools operating under a charter from the state's department of education that receive their funding on a per-pupil basis from public school systems. This bill allowed for the creation of 10 charter schools for a pilot period of 10 years. Several concerns and unanswered questions were resolved by a separate bill during the 2012 legislative session, but the prime accomplishment of the bill remains: Maine's parents and students will have choice and Maine's public school systems will have competition.
LD 1422 – Standards-Based Education
This bill directs the Department of Education to develop standards and procedures that enable school administrative units to transition to a standards-based system of education that awards a high school diploma based on a student's demonstrated proficiency in the areas of assessment under state learning standards, effective Jan. 1, 2017. It also requires the DOE, if funds are available, to make annual grants to school administrative units to fund the costs of transition to proficiency-based graduation standards for the awarding of high school diplomas. The grants are equal to 1/10 of 1% of a school administrative unit's total cost of education.
The bill maintains maximum freedom at the local level, leaving it up to school districts to decide how best to reach the proficiency requirements of a state-issued high school diploma. The bill puts a goal in place for Maine's educators, sets a higher bar of achievement, and tells employers that a Maine high school diploma is a valuable credential.
LD 1858 – Teacher Performance Evaluation
This bill holds bad teachers and principals accountable and lets the best stand out by creating a new performance evaluation system for Maine's educators. It creates the Maine Educator Effectiveness Council, composed of teachers, administrators, and the Commissioner of Education, to develop standards for the performance evaluation system and to oversee its operation. The Legislature's Education Committee spent much time weighing the Governor's original proposal and crafted an amended version that achieves his original goals while ensuring that the evaluation program can be implemented seamlessly into the state's K-12 education system.
LD 1867 – Protection for Victims of Domestic Violence
A signature part of the Governor's domestic violence initiative announced in his State of the State Address, this bill makes several changes to the bail code to protect victims of domestic violence. It expands the number of crimes that fit the definition of domestic violence for the purposes of the bail code; requires that a judge, and not a bail officer, make a bail determination; increases the penalties for violations of bail conditions in cases involving domestic violence; and requires that more information be available to those making a bail determination in domestic violence cases.
The bill also calls for the Judiciary to provide a written report to the Legislature by January 2013 on the efficacy of this law and make recommendations accordingly, which the Legislature shall address in appropriate legislation.
LD 1698 – Establishment of Veterans' Treatment Courts
This bill is presented in memory of former Army Ranger Justin Crowley-Smilek of Farmington, who served his country in Afghanistan.
It provides that the Chief Justice of the Maine Supreme Judicial Court may establish veterans' treatment courts, which are specialized sentencing dockets in select criminal cases in which the defendant is a veteran or a member of the United States Armed Forces. The specialized dockets will enable veterans' agencies and social service agencies to provide treatment for that defendant. The bill also authorizes the State Court Administrator as well as other state departments and social service agencies to seek federal funding for these special courts.
LD 736 – Texting While Driving

This bill imposed a prohibition on texting, defined as "composing and sending electronic communications," while driving. The bill originally imposed a $100 fine. However, LD 1912, passed the following year, increased that penalty to $250 after it became clear that texting while driving required an even greater deterrence.
On Wednesday January 4th the second session of the 125th Legislature began. Some of the highlights included the swearing in ceremony for David Slagger who becomes the third member to represent a native American tribe, the Houlton Band of Maliseets. Rep Slagger was then seated the following day with many tribal members present including the Lt. Governor for the province of New Brunswick Canada, the Honourable Graydon Nicholas.
Also joining us was the newest elected representitive Raymond Wallace from Dexter. Reppresentative Wallace fills the seat left empty due to the resignation of the previous member. He is a native Mainer who worked many years for Dexter Shoe.  He has been appointed to the Joint Standing Committee on Labor, Commerce, Research and Development.
We welcome both of our new members!
Assistant Majority Leader to run for open District 33 State Senate seat
HAMPDEN- Representative Andre Cushing announces his candidacy for the Republican nomination to the Maine State Senate in District 33, to represent the 17 Penobscot County towns of; Carmel, Charleston, Corinth, Corrina, Dexter, Dixmont, Etna, Exeter, Garland, Glenburn, Hampden, Kenduskeag, Levant, Newburgh, Newport, Plymouth and Stetson.
Cushing is in his second term as state representative for District 39, which includes Dixmont, Hampden and Newburgh, and is the Assistant Majority Leader of the Maine House of Representatives. He is the House chair of the Joint Rules Committee and Committee on Elections. During his first term he was the ranking member of the Joint Committee on Labor.
Representative Cushing was chosen as House chair for The Blue Ribbon Task Force on Affordable Housing and for a study dealing with regulatory taking.
"As a parent, small business owner and native of this area,"he said, " I am proud to work for the people of Maine, and I know firsthand the challenges many face in this economy . I also know, given the opportunity, Mainers can and will persevere. If elected I will continue to work on issues that make our state more friendly to job creators and the people who live and work here.
As a state we must get our financial house in order and we must stop creating laws that punish those who contribute to a strong Maine economy," he added. " We in Augusta must work to create an environment where people want to live, work and enjoy the way life should be. The strength of our state is in the many people who drive our economy, be they farmers, trades people or professionals . They all want the opportunities to provide for themselves and their families."
Former House Minority Leader Josh Tardy of Newport, who will serve as Cushing's campaign treasurer, offered his strong words of support. " I am thrilled that Andre is running for the State Senate." Tardy said. "He has always been a hard worker and his experience as a small business owner and dedicated public servant will be a real plus as he works on the challenges facing Maine today. His energy and enthusiasm for our state will make him a fine advocate for the people of Senate District 33."
Cushing, who has over 25 years experience as a small business owner, currently is a Realtor and home builder. He is a native Mainer who attended Bangor-area schools and the University of Maine. He is an active member in both civic organizations and local government, who believes in giving back to the community in which he lives. He has been a member of Jaycees, Rotary and Kiwanis, and has served as President of the EMMC Children's Miracle Network and Black Bear United Soccer boards. He has served as a town councilor in two communities, including Hampden, where he is now the deputy mayor.
He and his wife, Gwen, who is a supervisor for a telecommunications company, reside in Hampden. They have three adult children– Grace, Andre IV and Gerald.
As we begin the 125th Legislature there are major changes occurring. For the first time since 1974 Republicans are in the majority and therefore will oversee all operations of the Legislature, its chambers, committees and operations. This will be a significant change for all involved. As no one currently serving has taken on these responsibilities many are watching to see how Senate President Kevin Raye and House Speaker Robert Nutting will handle the decisions of committee leadership and the operations of their respective chambers. The chairs will need to moderate the new committees as they move thorough the over 1500 pieces of proposed legislation and work to shape the policies of the Legislature under a Republican Governor. The last time these factors came together was 1964! I am confident that we are ready for this opportunity granted us by the citizens of Maine. WE must move carefully and respectfully but we have been charged with making changes to the way our government operates and to correct the pathway that Maine has been on for many years. We neeed to move in a direction that offers hope and opportunity to our reisdents and those who create the businesses and industry that makes our state run. All the while being sensitive to the needs of all residents of this great state and the many features that make it special.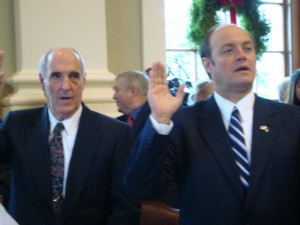 It was an historic day as the 125th Legislature began under new leadership with the 100th Speaker of the House Robert Nutting presiding. The atmosphere was charged as both parties settled into their new roles facing the need for a supplemental budget to deal with new projections showing revenue shortfalls and a still unsettled economy leaving many things in question. As the Assistant Majority Leader, the first Republican to hold this position in over thirty years, I was charged with keeping the 78 members of our caucus informed of the issues and trying to earn their trust of the policy agenda that we in the Legislature and our new Governor would provide. Their were many who had worked hard to see us in the majority and there were expectations and concerns about our ability to lead and to move on key issues. To me the most important thing was to move carefully and respectfully in what we did.
Governor LePage had called for a series of forums to receive from Maine's citizens and small business owners in put about the challenges they faced with government regulatory issues. These meetings dubbed "Red Tape Reform" meetings are to be hosted by Chambers of Commerce and business groups across the state. The Legislature is holding LD 1 as the vehicle to incorporate these proposed changes. We have established a special joint committee who will be charged with hearing public testimony on the proposed bill and it is considered a priority for the 125th to address.
I have shared with the Republican caucus some of the insighted that pollster Scott Rassmussen presented when he came to Maine in November. That the 2010 elections were again a sign of the publics dissatisfaction with elected officials and particularly those who were recently in charge. Mr. Rassmussen is a well respected national pollster who studies trends in our plotical system. He cautioned that this was the second election cycle in a row where the majority party of the sitting PResident lost control of Congress and he also pointed out the very low opinion the public holds for elected officials.
I summarized it as follows, people did not fall in love with the Republican Party in Maine during the 2010 election. They voted out those in charge as having failed in their duty to listen to the people and act in their best interests. I used the anology that opur chance to govern in Maine is like borrowing a book from the library. We don't own it, it is on loan and how we treat it will determine whether we can take it out again in two years.
There is much to do in the coming year and we must move carefully, and fairly in the process. Maine people are hoping for a better future and we must do our best see help it along.
On November 12th members of the Republican caucus of the incoming 125th Legislature met to select their new leadership team. For the first time since 1974 we will elect a Speaker of the House. There are five candidates running for the position; Paul Davis of Sangerville, Robert Nutting of Oakland, Meredith Strang Burgess of Cumberland, Stacey Fitts of Pittsfield and myself. After four rounds of balloting Robert Nutting was chosen as the Republican candidate. Philip Curtis of Madison was elected as the Majority Leader and I was elected as Assistant Majority Leader. It is an honor to be chosen to serve our caucus. Earlier in the week the Senate selected Kevin Raye of Perry as President of the Maine Senate . Jon Cortney of Sanford was elected as Majority Leader and Debra Plowman of Hampden as Assistant Majority Leader.